&nbsp


Christmas Lights - 1960

The 1960s saw the beginning of the end for the old E10 screw-in light sets as E5 sets started to become available. The new lamps where small enough for manufacturers to make plastic shades to surround or cover the lamps. Unlike figural glass lamps, the plastic shades permitted a new forms and shapes to be produced as they did not need to be made as one single part.

Ajax Sputnik Lights

Named after the USSR satellite Sputnik launched in 1957, this light set marks the beginning of the US-USSR space race. I know at least two different versions of this where produced. As far as I know these lights where produced in sets of 24 (2 x 12 light sets) with two flasher lamps in order to create a simple colour change effect. The lamps are clear E5 20V with permanent contact devices fitted. One version of these sets (probably MK1) is wired with very fine green wire and has push-on shades. The box The other version (MK2) was made with heavier white wire and had bayonet fitting shades. The actual shades are virtually identical on the MK1 and MK2. It is worth noting that the 20V lamps run quite hot yet the shades have no ventilation!

The "MK1" set in the collection is marked "Empire Made" and carries images of the space landing and rockets. The "MK2" set in the collection has a much simpler box marked "Made in Hong Kong" and has images of Santa, Poinsettia, lights and even a Santa riding a rocketů I think the box designer was getting into the swing of the 60s!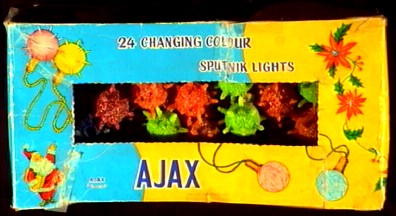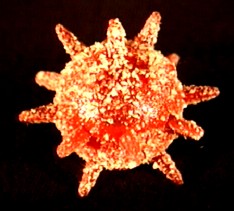 &nbsp